Where do we derive the name of the Company, Methuselah Translations?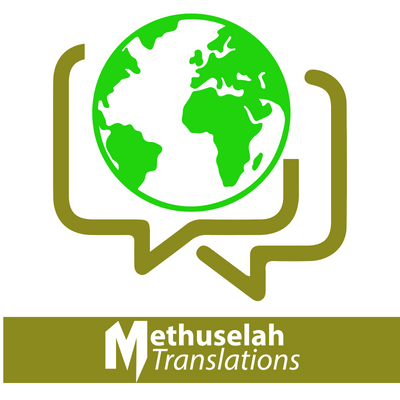 It was derived in the Bible(  In the Book of Genesis). Methuselah was the man who ever long lived on the planet earth( 969 years ). This links to our vision of preserving the  all Indigenous, Dialects, Vernacular, Popular, Local, Endangered and Aboriginal languages  by  preventing them to die  and live longer trough Translation and Interpretation Services we provide and encouraging them to keep on writing, speaking and teaching them to their children. 
"Our language is like a pearl inside a shell. The shell is like the people that carry the language. If our language is taken away, then that would be like a pearl that is gone. We would be like an empty oyster shell" 
by Yurranydjil Dhurrkay, Galiwin'ku, North East Arnhem Land
Methuselah  Translations provides translation and Interpretation solutions that ensure global consistency, local relevancy and technical usability across all touch points. Being  the first  largest and fastest-growing language service provider(LSP) in the world, our employees and linguists  thrive  to make a difference in society through language. "Every day, we help billions of people  worldwide overcome communication barriers, meet goals, build trust and grow as individuals." It is this passion for helping others that continues to drive our culture of service excellence, and that keeps clients coming back to us!
Using our innovative technologies, global program management expertise and our worldwide crowd of more than 50,000,000 professional Translators  and Interpreters ,we provide integrated solutions that enable clients to successfully market, sell and support their products and services in respective global markets .
So reach us from everywhere around the globe,  our language experts  are  from  any  each remote tribe , region ,  country  in Africa ( Dialects, Indigenous &Vernacular Languages),  North  and South America ( Indigenous Languages ),  Asia ( Local Languages),  Oceania( Australia & Pacific Islands: Aboriginal and  Indigenous Languages) and Europe( Popular Languages).
Why Methuselah Translations
What the Happy Clients Say
We engaged  Methuselah Translations on their translation services and they kept the deadline and  the quality was  very good.
Our company contacted  Methuselah  Translations when we needed urgent translation and Interpretation in French, Chinese, Russian, English, Arabic and Spanish, Not only were they prompt and delivered the work on time, we found it to be very qualified and professional.
We worked recently with  Methuselah  Translations with all Indigenous Languages in Micronesia, Melanesia and Polynesia, especially for all 872 languages spoken in Papua New Guinea for Covid-19 Translations. We found them quite reliable and professional in their work since they provided excellent translation in the given deadline.